Today I would like to introduce to you a classic cocktail shaker set.Let me introduce each product to everyone so that you can better understand this cocktail shaker set.
  1.Cocktail shaker:A stainless steel shaker is a commonly used bartending tool used to mix and cool the main ingredients of cocktails. It is usually made of high-quality stainless steel, which is durable, easy to clean and rust-proof.The mixer in the set has a capacity of 700ml. We have various styles of mixers and various capacities such as 250ml, 350ml, and 550ml.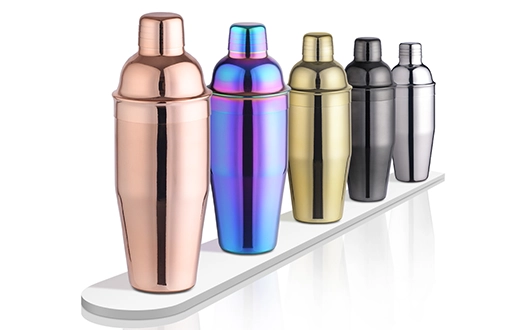 2.Jigger:A stainless steel cocktail measuring cup is a tool used to accurately measure cocktail ingredients. It is usually made of high quality stainless steel.Bartending measuring cups usually have a dual-head design, with each head having a different capacity to facilitate measuring different amounts of ingredients. Common capacity combinations include 1 oz (30 ml) / 2 oz (60 ml) or 1.5 oz (45 ml) / 0.75 oz (22 ml).The measuring cup capacity in the set is 15ml/30ml and 20ml/40ml
  3.Muddler:Usually designed in the shape of a rod with a larger flat head or groove on one end, it is used to stir and crush ingredients while maintaining the original aroma and taste of the drink.The muddler in the set is 20.3cm long and made of stainless steel
  4.Bar spoon:Stainless steel Bar spoon are made of high-quality stainless steel to ensure the durability and hygiene of the product. They are usually shaped like a long spiral rod and are used for stirring and mixing food, sauces or drinks.The spoon length in the set is 22.5cm
  5.Strainer:Made of stainless steel. Stainless steel strainer offers durability, corrosion resistance and easy cleaning,It is designed to block the passage of solid materials and only allows liquids or smaller particles to pass through.
  6.Corkscrew:A wine corkscrew is a tool specially used to open red wine bottles. It can effectively and easily remove the stopper of a red wine bottle so that the wine can be poured out.The corkscrew in the set is 12cm tall and weighs 55g
  7.Ice tong:Stainless steel ice tong are sturdy and durable and can withstand the weight and pressure of ice cubes. The clamping design of ice tong is usually a double-claw or multi-claw structure to provide a stable and safe clamping force. The jaws often have a serrated or grooved surface to increase their grip on the ice and avoid slippage or loss of control.The height of the ice tong in the set is 16.5, and there are also other different styles of ice tong to match.
  8.Pourer:The stainless steel wine pourer is a practical and sophisticated tool that helps people pour drinks accurately, reducing waste and dripping. Their durability and easy cleaning make them a common tool in bars, restaurants and homes.